Your machine's favorite spare parts
CNH Genuine Parts guarantee you and your machine the original quality and performance, maintaining over time the value of your investment. They are designed, manufactured, tested and factory certified to ensure your CASE equipment continues to deliver its best performance day after day.
"NO LIMIT" GUARANTEE
Our Genuine Parts all go through rigorous quality tests, ensuring that we can vouch for their exceptional quality and durability. What's more, we guarantee all CNH Genuine Parts for 12 months. Can you think of a better way of certifying their quality and performance?
DELIVERY WITHIN 24 HOURS
We developed a highly efficient distribution system at CASE, allowing the delivering of the Genuine Parts you need to your doorstep within 24 hours in any country, every day. That means no downtime for you and your equipment. You can get straight back to work without wasting any time.
THERE IS MORE
The reasons for choosing CASE Genuine Parts don't stop here: through our Service Network we propose you exclusive sales offers and provide you with specialized advice. We will make sure that you are having the right service at the right time.
THE FIGURES THAT SPEAK LOUDER THAN WORDS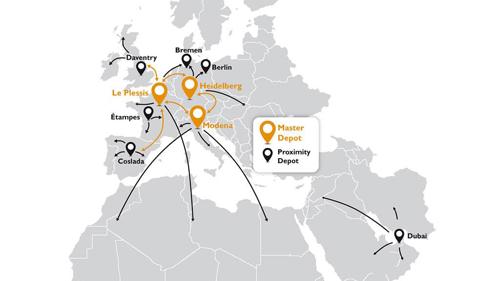 - 9 Depots in Europe, Middle East and Africa

- 335,000 m² of storage space

- 7.8 million part orders every year

-Parts available in stock: more than 350,000 part numbers

- 24/7 delivery, every day

Wherever you are, access a vast selection of Genuine Parts for your machinery in record time. For you, this means enhanced performance and minimal downtime to maintain high levels of productivity all year.

1. Fast delivery: in your hands in less than 24 hours
2. International coverage: dispatched to over 140 countries
3. Dealer to Dealer support: parts sharing program between dealers to upgrade final customer service level